How to install Wordfast Classic
Wordfast Classic (WFC) integrates as an add-in into Microsoft Word. This means it needs to be installed as an add-in into a compatible MS Word installation.
You can download and install the demo version, or, if you own a license, the full version.
Download and install Wordfast Classic
To download and install WFC, follow these three steps.
Before you install WFC on your computer, check the compatibility tables to see if your operating system and MS Office version support WFC.
To download WFC:
Adjust MS Word settings and install WFC by following the installation instructions in the WFC user manual.[2]
Activate Wordfast Classic in Word
When WFC is installed, it is inactive when you open MS Word. When you want to use WFC in Word, press Ctrl+Alt+W. This will activate WFC and its toolbar[3] will appear in Word.
Mac users: Before pressing Ctrl+Alt+W, make sure to go to Tools/Templates & Add-Ins menu, and check wordfast.dot to activate it.
Check version number and license status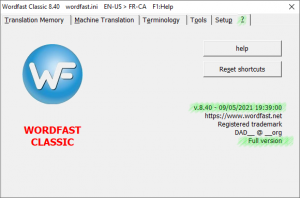 After you install WFC (or any time in future), you may want to check:
the status of your license in WFC on your computer, and
the version number of WFC on your computer.
To do this, open the WFC settings window by pressing Ctrl+Alt+W or by clicking on the rightmost icon on the WFC toolbar and access the ? tab. The details are shown there.[4]
If your version is older than the one available at the download page, you can update your WFC version to the latest one.
Update Wordfast Classic
To update your WFC version to the latest one, follow the above instructions to download and install WFC. The new version will replace the older one, while your settings, translation memories, etc. will remain.
Special cases: Activate the license manually
If you are using a very old WFC version[5] (not recommended), you will need to unlock the demo mode manually by creating a license number. You may also need to do this if you are using WFC in a computer that has no internet connection[6] for an extended period of time.
References